Snowmobiling Information
---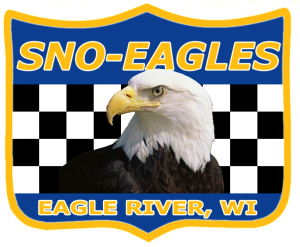 Eagle River has long held the distinction of SNOWMOBILE CAPITAL OF THE WORLD, and it's a matter of pride that causes local clubs and businesses to work so diligently to maintain that title. Snowmobile fever becomes a way of life in our Eagle River winters, and the talk often turns to "picks", "carbides" and performance. In fact, these snow machines seem to outnumber cars during the winter months.
Over 500 MILES OF GROOMED TRAILS connect the communities of the area, including access to major county and state routes. Trails wind throughout the area's scenic forests, but frequently pass close to service businesses which can provide you with fuel and sustenance, shelter and refreshment. If you don't have your own snowmobile, several dealerships will be happy to provide you with equipment during your visit.
Check out – Sno-Eagles Snowmobile Club on FaceBook or Sno-Eagles.org for Sno-Eagles Activities

---
Trail Conditions:
Closed
Snow Cover:
Most areas bare - snow deep in the woods
Date of Report
: March 7, 2017
Area Report:
TRAILS CLOSED
The Clubs of the Vilas County Alliance voted here is the official announcement from the Vilas County Parks & Recreation Administrator.
Sno-Eagles would like to Thank the business and landowners who have given continued support to the Sno-Eagles and the sport of snowmobiling in the Eagle River area.   Sno-Eagles Snowmobile Club would also like to thank many of the dedicated volunteers who continue to make the best possible trails and conditions for our many residents & guests to enjoy.

Without volunteer club members, business support and wonderful land owners there would be no snowmobile trail system in Eagle River or Vilas County.  
Hope you rode it when we had it.  See you on the trails next season!
Holly Tomlanovich
Communications Chair
Sno-Eagles, Inc.
PROUD GROOMERS OF THE SNOWMOBILE CAPITAL OF THE WORLD® – Eagle River
Phone Trail Updates 715.479.5185
News and Reports:
SNO (Saturday Night Out) – Cocktails 5:30pm – Dinner 6:00pm
March 25 – Catch 22 on Hwy 70E/Trail 10E about 5 miles from Eagle River.
WEDNESDAY & THURSDAY TRAIL RIDES – No Trail Rides this week

Meet on Trail 13 (the Grade) in town between Historic Railroad Depot & Friendship House
9am departure
MONTHLY MEETINGS – 6:30pm Snacks – Meeting at 7pm – All Welcome!
March 16 – Eagle Waters (Hwy 70E to Rangeline Rd-follow the signs)
April 20 – Gordo's (Hwy 45N across from Holiday North Gas Station)
BOARD MEETINGS – 7pm at the International Snowmobile Hall of Fame (Hwy 45N next door to the World Championship Snowmobile Derby)
January-May the 1st Tuesday of the each month
Snowmobile Information:
DNR Registration, $30 Trail Pass information