Reporter:
Holly t
Trail Conditions:
Closed
Snow Cover:
Melting
Date of Report
: March 25, 2019
Area Report:
March 25, 2019 6:42pm – 9 – High 37
All Vilas County Snowmobile Trails are Closed
Well we almost made it to the end of the year.  Hope your sledding year was a good one.  See ya on the trails in 2019-2020!

Holly Tomlanovich
THE SNOWMOBILE CAPITAL OF THE WORLD® – Eagle River
Phone Trail Updates 715.479.5185

Sno-Eagles Snowmobile Club
Handy Snowmobile Links
Wisconsin Snowmobile Registration
Discount Trail Pass for Snowmobile Club Members – $10
Standard Wisconsin Trail Pass – $30
Out of State Trail Pass – $50
Vilas County Map It Trail App GPS style app of all trails in Vilas Cty.  Plus includes the brown 3 digit emergency numbering system. If an emergency happens call 911 & give them that number.  Find you quicker.
Snowmobiling Information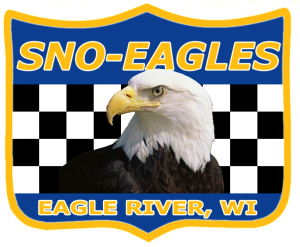 Eagle River has long held the distinction of SNOWMOBILE CAPITAL OF THE WORLD, and it's a matter of pride that causes local clubs and businesses to work so diligently to maintain that title. Snowmobile fever becomes a way of life in our Eagle River winters, and the talk often turns to "picks", "carbides" and performance. In fact, these snow machines seem to outnumber cars during the winter months.
Over 500 MILES OF GROOMED TRAILS connect the communities of the area, including access to major county and state routes. Trails wind throughout the area's scenic forests, but frequently pass close to service businesses which can provide you with fuel and sustenance, shelter and refreshment. If you don't have your own snowmobile, several dealerships will be happy to provide you with equipment during your visit.
Check out – Sno-Eagles Snowmobile Club on FaceBook or Sno-Eagles.org for Sno-Eagles Activities
---