Snowmobiling Information
---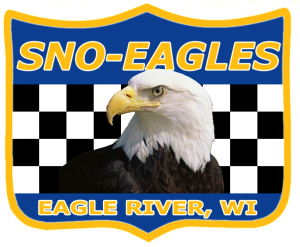 Eagle River has long held the distinction of SNOWMOBILE CAPITAL OF THE WORLD, and it's a matter of pride that causes local clubs and businesses to work so diligently to maintain that title. Snowmobile fever becomes a way of life in our Eagle River winters, and the talk often turns to "picks", "carbides" and performance. In fact, these snow machines seem to outnumber cars during the winter months.
Over 500 MILES OF GROOMED TRAILS connect the communities of the area, including access to major county and state routes. Trails wind throughout the area's scenic forests, but frequently pass close to service businesses which can provide you with fuel and sustenance, shelter and refreshment. If you don't have your own snowmobile, several dealerships will be happy to provide you with equipment during your visit.
Check out – Sno-Eagles Snowmobile Club on FaceBook or Sno-Eagles.org for Sno-Eagles Activities

---
Trail Conditions:
Poor
Snow Cover:
Thin
Date of Report
: February 21, 2017
Area Report:
Trails Poor to Unrideable

Heavy rain yesterday afternoon. Bringing the Poor trails down to Unrideable in most areas.
Trail Boss Brian reports that "all grooming has been suspended until weather permits".
Both Catfish Lake Loop & Eagle Lake Trail have surface slush. Stay by the barrels as there can be danger out there.
Short report until the temps return to "normal" February weather.
Keep Doin' The Snow Dance! And For Heavens Sake…THINK COLD!
See Ya On The Trails Soon I Hope!
Holly Tomlanovich
Communications Chair
Sno-Eagles, Inc.
PROUD GROOMERS OF THE SNOWMOBILE CAPITAL OF THE WORLD® – Eagle River
Phone Trail Updates 715.479.5185 – Early AM with more updates should conditions changes dictate.
News and Reports:
RIDE WITH PRIDE RAFFLE TICKETS – Drawing 12 Noon, this Saturday, February 25, 2017 at TrackSide.

$2 each or 3/$5 available from Sno-Eagles, Eagle River Chamber office & many businesses in Eagle River
Prizes – 1st prize SkiDoo MXZE 600 or CanAm Outlander 570. 2nd prize 55′ Flat panel TV or $500. 3rd prize Wkend at Eagle Waters Resort + dinner. 4th prize Wkend at Wild Eagle Lodge.
Meet AWSC Miss Snowflake Erica Keehn!
SNO-EAGLES SNO HUNT – January 13-February 28, 2017 – for more information contact Dave Mrczynski at 715.891.8584.
A fun snowmobile scavenger hunt with bonus point & prizes
Register at local businesses
SNO (Saturday Night Out) – Cocktails 5:30pm – Dinner 6:00pm
February 25 – 12 Pines Restaurant on Townline Rd off of Trail 10E
March 25 – Catch 22 on Hwy 70E/Trail 10E about 5 miles from Eagle River.
WEDNESDAY & THURSDAY TRAIL RIDES – No Trail Rides this week

Meet on Trail 13 (the Grade) in town between Historic Railroad Depot & Friendship House
9am departure
MONTHLY MEETINGS – 6:30pm Snacks – Meeting at 7pm – All Welcome!
March 16 – Eagle Waters (Hwy 70E to Rangeline Rd-follow the signs)
April 20 – Gordo's (Hwy 45N across from Holiday North Gas Station)
BOARD MEETINGS – 7pm at the International Snowmobile Hall of Fame (Hwy 45N next door to the World Championship Snowmobile Derby)
January-May the 1st Tuesday of the each month
Snowmobile Information:
DNR Registration, $30 Trail Pass information