Reporter:
brandiniron
Trail Conditions:
Good
Snow Cover:
49"- 111"
Date of Report
: March 1, 2023
Area Report:
BPA/Railroad
02/26/23
 
Big Sky
02/28/23
 
Cougar Creek
02/28/23
 
Horse Butte
03/01/23
 
Lionhead
02/27/23
 
Madison Arm Trail
03/01/23
 
Little Snowy
03/0123
 
Power Line West of Town
03/01/23
 
South Plateau Trail – Whiskey Trail – Black Bear Cut Off
03/01/23
Be Aware of the Park Boundary! Snowmobiles must not cross into the Park!
South Plateau to Jct. 23 – Whiskey Trail
03/01/23
Be Aware of the Park Boundary! Snowmobiles must not cross into the Park!
Two Top Loop Trail via South Fork
02/28/23
 
Two Top Loop Trail via Mosquito
02/28/23
 
Junction 8
03/01/23
News and Reports:
Make the Brandin' Iron Inn your place to stay and receive a discount on your room when you mention Snow Tracks
Snowmobile Information:
Stop in at the Chamber to purchase your Montana and Idaho trail permits.
Snowmobiling Information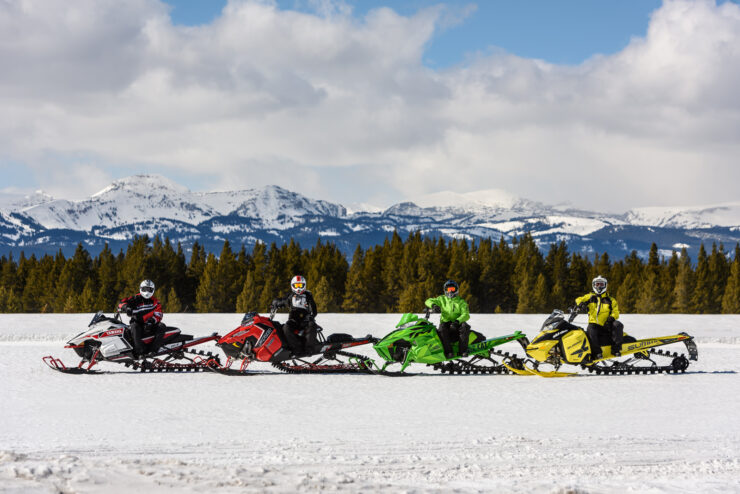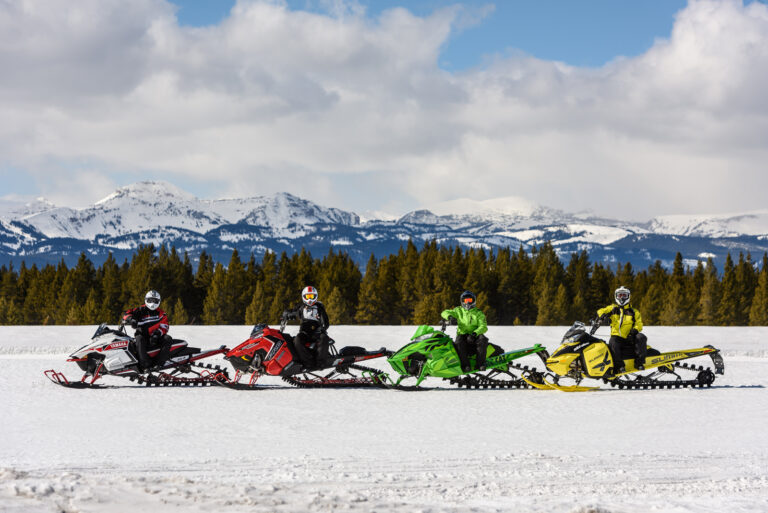 THE HEART OF SNOWMOBILING – West Yellowstone is undoubtedly a snowmobiler's paradise. With more than 140 inches of snow annually, and 400 miles of trails connecting Montana and Idaho, through some of the most breathtaking scenery anywhere, it continues to top the list of favorite sledding destinations. The trail system begins right in town, where snowmobilers share city streets with motorists, and onto trails in the Custer-Gallatin, Beaverhead and Targhee National forests. Groomed trails provide access to off-trail powder meadows and more advanced back country riding.
| | |
| --- | --- |
| Sun Powder – Jon Cracroft | Powder 1 – Jon Cracroft |
Local businesses provide snowmobile and clothing rentals on a daily or multi-day basis. Snowmobile rentals range from two-up easy riding and trail models to high-powered sleds adapted for mountain and back country riding. Additional equipment, including avalanche beacons and shovels for back country riding can also be rented. National Forest guide service is also available for snowmobilers new to the area, who want to learn more about the trail system or for back country riding.
After day of riding through some of the most breathtaking scenery in the country, creating memories while taking in our natural, scenic wonders, wind down with friends and family at one of our local establishments for great food and local hospitality. Lay your head on some of the most comfortable pillows from any of our lodging partners.
| | |
| --- | --- |
| ISMA – Wayne Davis | ISMA – Wayne Davis |
Make it a family vacation by planning your trip around one of our exciting winter events like Kids'N'Snow, the Rodeo Run Sled Dog Races, Nordic ski events, ice fishing or Skijoring. Families can also take in a movie at the Yellowstone Giant Screen Theatre, and visit the new River Otter Exhibit at the Grizzly & Wolf Discovery Center.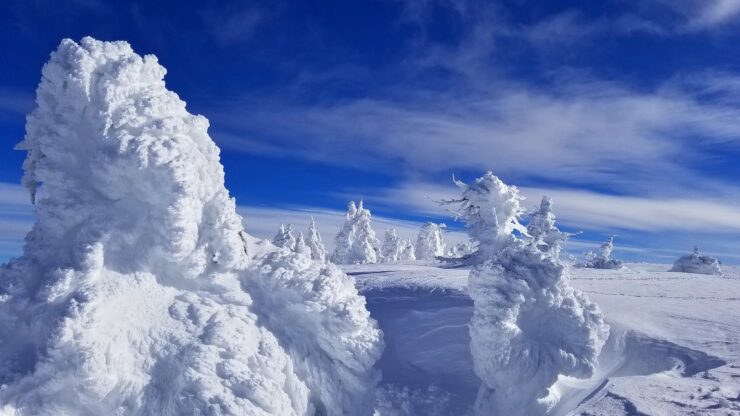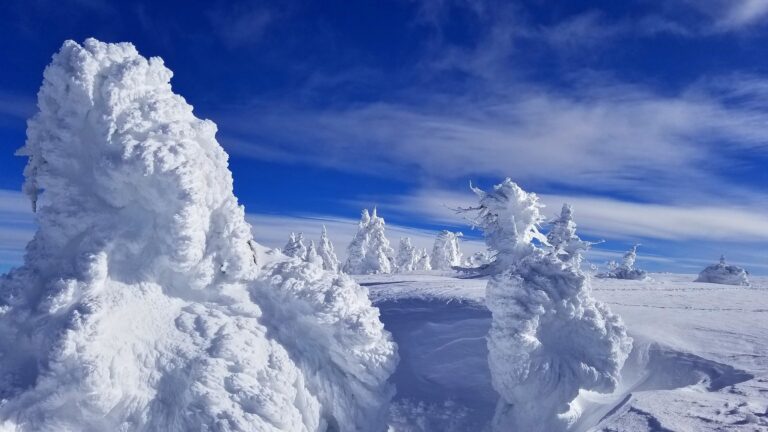 TOP TRAILS:
The Madison Arm Loop – located north and west of town, is 20 miles in length. The trail is well maintained and usually provides great wildlife viewing opportunities.
Horse Butte Loop – Another good trail for beginners, the 20-mile trail travels the shores of Hebgen Lake.
The South Plateau Trail – Runs along the boundary of Yellowstone. You can ride this trail out and back, or link it up with one of the other trails to make a great loop ride. It provides great views of the area's mountains, following creeks and rivers away from the crowds.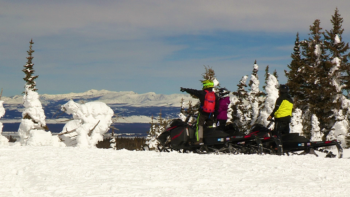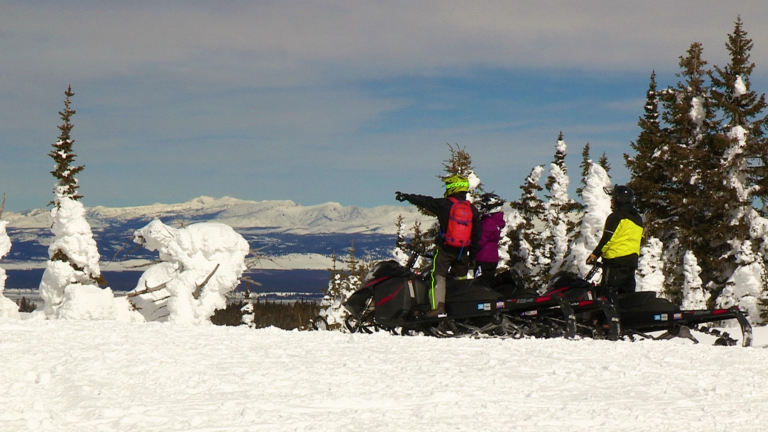 Two Top Trail – The most famous trail is a popular choice for its variety of terrain and 2,000-foot elevation gain. The trail is groomed, and powder fields abound. On clear days, the surrounding mountain ranges come into view, including the Teton's, Centennial Mountains, Lionhead, and Yellowstone National Park. Constant driven winds create ghostly ice patterns plastered on the trees at the top of this mountain creating the famous "snow ghosts."
More experienced riders can access extra off-trail riding from the Two Top or Lionhead Trail. Lionhead follows the Continental Divide, the trail climbs through switchbacks to over 10,000 feet There are numerous bowls with drop offs and overhanging cliffs.
The Big Sky Trail – Provides some of the best backcountry snowmobiling in Montana. This challenging 110-mile trail begins just north of West Yellowstone. While the first portion is groomed, the trail quickly turns into an un-groomed powder experience. This area has open bowls, deep fields of snow, and outstanding hill climbing opportunities.
For more information about snowmobiling, trail reports and other winter adventures, visit
DestinationYellowstone.com.
DID You KNOW?
Keeping those trails in pristine condition is a work of a small group of dedicated and skilled operators and mechanics. At night, while most of us are sleeping, the West Yellowstone Trail Groomers are out on the trails preparing them for the next day's riders.
The trail grooming program was the first of its kind in the U.S. It was created by a public private partnership between the West Yellowstone Chamber Trail Grooming Committee and U.S. Forest Service.
There are three Piston Bullies and one Caterpillar Tractor equipped with blades, drags and tillers, that run seven nights a week starting December 1 (weather permitting).