Reporter:
ironsnowshoe
Trail Conditions:
Excellent
Snow Cover:
LOTS!!!!
Date of Report
: February 14, 2019
Area Report:
Last week we received in the neighborhood of 16+ inches of snow…this week another 10 to 12 inches!  It is snowing again now…so far another 3+ inches!  Trails are fabulous, only because our dedicated groomer guys have been out day and night getting ready for you all to enjoy these beautiful trails.  With this much snow, it takes several groomings to get everything in shape for good riding.  You will see them out all weekend as well. 
Great riding throughout the entire trail.  I will rate them as excellent. 
Be aware of your surroundings…with this much snow, you will find slushy spots on the lakes.  Please respect our landowners…stay on the marked trail. 
Also, again, thank you for supporting the businesses that support the snowmobile club.  Without these businesses, we would not have a trail. 
Remember to stop by the Crooked Lake Fish-O-Rama this Saturday.  Hoping I will see you there!
News and Reports:
All Season Long:  The Bunny Hunt – Find those bunnies in the trees or along the trail.  Valuable coupons and prizes are inside!  For more information, ask any of our business sponsors…
Saturday, February 16 – Crooked Lake Fish-O-Rama – @ Fire House in Crooked Lake
Saturday, February 23 – High Falls Radar Run.  Register 8:30.  Race 9-4.  @ Boat Landing 3 Road and snowmobile trail
February 23rd –  N.E.W. Low Buck Vintage Riders for the 1st Annual "Sassy Sara's Safari" snowmobile ride…Ride leaves 11AM…for more information contact Jungle Jims.
February 23 – Vintage Snowmobile Run – Leaves from Thunder Lake Bar and Grill – for more information, contact Thurnder Lake Bar and Grill
Saturday, March 2 – Twin Bridge ATV/UTV Ice Race.  @ Boat Landing 3 Road and snowmobile trail.  Sponsored by Twin Bridge Ski Team
Snowmobiling Information

With over 130 miles of trails, the Iron Snow Shoe Snowmobile Club is one of the largest snowmobile clubs in Wisconsin. Located in central Marinette County, our well groomed trails stretch from the Nicolet National Forest to Crivitz and include the Twin Bridges, High Falls Flowage, Caldron Falls Flowage, Silver Cliff, Thunder Mountain and Crooked Lake areas of northeastern Wisconsin. Trail conditions are updated several times weekly throughout the season and usually include photos of the local trails.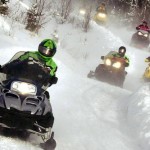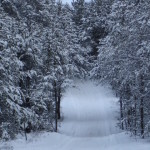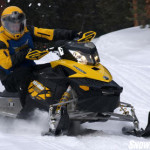 The heart of the system is the area around High Falls and Caldron Falls Flowages. In addition, we offer the beautifully scenic River Trail along the Peshtigo River. The flowages/Twin Bridge area is a favorite destination of many snowmobilers. Local businesses offer a wide variety of services and include supper clubs, lodging from modest cabins to deluxe condos & homes, traditional north woods trail stops, and more.
---