Reporter:
ironsnowshoe
Trail Conditions:
Fair
Snow Cover:
2 to 4 inches
Date of Report
: February 16, 2018
Area Report:
Hi All…We did survive those two warm days.  I'm calling the trail Fair to Good condition.  Some of the approaches are dirt, but frozen dirt.  There are definitely some thin and snirty areas, but all is frozen and very ridable.  The weather channel is calling for snow on Sunday into Monday.  We do need it.
Ride safe…
News and Reports:
February 17, 2018    6th Annual Human Ice Bowling & Bed Races starts st 11am- 100% payout for both events.  Sign up early.  Cabins available on the snowmobile trail.  DJ and meat/booze raffles benefiting local charities all daylong.  At Thornton's Resort  715-757-3311
February 17, 2018     Crooked Lake Fish-O-Rama at Fire House in Crooked Lake
February 24, 2018     High Falls Radar Run   Radar run track is 800′ track. Trophies in all classes.  Sponsored by the Twin Bridge Water Ski Team.  12 miles NW of Crivitz on Boat Landing 3 Road  715-757-3511
February 24, 2018     Lake Noaqubay Fish-O-Rama Timberline Resort on County Hwy GG east of Crivitz.  Hosted by Lake Noquebay Angler's Patnership.  3 prizes in 7 fish categories. Food, beverages, contests, game, raffle under large tent.  715-854-2439
Snowmobiling Information

With over 130 miles of trails, the Iron Snow Shoe Snowmobile Club is one of the largest snowmobile clubs in Wisconsin. Located in central Marinette County, our well groomed trails stretch from the Nicolet National Forest to Crivitz and include the Twin Bridges, High Falls Flowage, Caldron Falls Flowage, Silver Cliff, Thunder Mountain and Crooked Lake areas of northeastern Wisconsin. Trail conditions are updated several times weekly throughout the season and usually include photos of the local trails.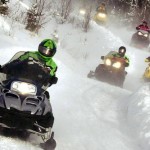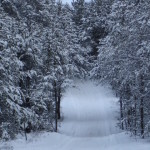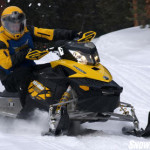 The heart of the system is the area around High Falls and Caldron Falls Flowages. In addition, we offer the beautifully scenic River Trail along the Peshtigo River. The flowages/Twin Bridge area is a favorite destination of many snowmobilers. Local businesses offer a wide variety of services and include supper clubs, lodging from modest cabins to deluxe condos & homes, traditional north woods trail stops, and more.
---