Reporter:
Manitowish Waters Chamber
Trail Conditions:
Poor
Snow Cover:
10-15 inches
Date of Report
: March 15, 2018
Area Report:
Date March 15th, 2018
Trail Conditions: Poor
Posted by: Barry Hopkins – Snowmobile Club President
Vilas County trails will be open through the weekend.  Please understand that trails are overall in poor condition.  You will find decent riding in the woods, however it is getting harder to connect the good sections.  Road crossings, sections that share roads and exposed areas will be thin to bare.  Please respect landowners who graciously allow us to cross their property and stay on the trails.  Clubs lose trails when riders run off of the trails, so if you love our sport as much as I do, respect the property owners,  or stay home.   With that being said, please be safe and have fun out there!
News and Reports:
A big thank you to the Manitowish Waters Chamber for mailing maps out for us and their help in reporting trail conditions.  Also a  huge thank you to the groomer operators who volunteer their time to make our trails the best they can be!
Snowmobile Information:
The Manitowish Waters Sno-Skeeters snowmobile club was founded in 1968 and is one of the oldest snowmobile clubs in existence today in Wisconsin. Located in the very northwest corner of Vilas county, Manitowish Waters borders the Lake Superior snow-belt country. With average snowfalls of 150 inches and over 25 miles of professionally groomed trails, the area is one of Vilas County's top winter vacation areas.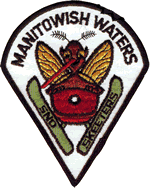 The Manitowish Waters trail system is a unique hub network directly linking into 5 other trail systems. With Minocqua/Woodruff to our south, St. Germain/Eagle River to our southeast, Lake Gogebic to our north, Presque Isle/Winchester to our northeast, Mercer and Hurley to our northwest and Lac du Flambeau/Price County to our west, our area residents and guests can choose from a variety of daily or overnight destinations for scenic riding with excellent pit stops along the way.
The Manitowish Waters Sno-Skeeters maintain an active grooming schedule for the area's trail system. Coordinated efforts with the surrounding communities provide continuous smoothly-groomed trails in this northwest sector. The Sno-Skeeters own and operate some of the newest grooming equipment on the market today. Support the club by attending their special events or contributing to the "trail pigs" at local establishments along the trails. Or show your support by becoming a member!
Enjoy, and please ride responsibly and safely!