Reporter:
Holly t
Trail Conditions:
Closed
Snow Cover:
Hard crusty snow following warm up & storm
Date of Report
: December 16, 2021
Area Report:
December 16, 2021 9:22am – 32 degrees
Good morning,
Quite a weather ride starting yesterday into this morning. Temps started to rise & by evening yesterday had risen to the mid 50's. Very foggy with the snow melt. All followed by high winds. Still some wind but has settled down. Temps are now at 32 degrees & a bit of very light SNOW! SNOW still on the ground, more than I expected but it is now frozen & crusty. Which could be a good thing. Beginning of a hard frozen base.
Many areas are reporting trees down & some breakup of the swamps. For that reason, when the Vilas County Snowmobile Alliance met last night in Boulder Junction the vote was NOT TO OPEN THE TRAILS IN VILAS COUNTY at this time. The 11 clubs will continue to communicate with the Vilas County Parks & Rec Supervisor. So DO NOT RIDE THE TRAILS as they are NOT OPEN. Plus with the trees down could be dangerous. Want to help with clean up contact the Sno-Eagles Trail Boss at 715.891.2332.
Time to be patient. Keep checking back for updates!
Holly Tomlanovich
THE SNOWMOBILE CAPITAL OF THE WORLD® – Eagle River
715.479-5185 Weekly Trail Update
News and Reports:
SNO-EAGLES EVENTS
December
12/16 – Sno-Eagles Christmas Party – Chef Renes at the Eagle River Inn – Hwy 70W
January
1/4 – Sno-Eagles Board of Directors meeting 6pm – Snowmobile HQ & Museum – Hwy 45N
1/6-9 – Vintage Snowmobile Races – World Championship Derby Track
1/13-14 – Badger State Winter Games Torch Ride from Wausau to Eagle River World Championship Derby Track
1/13-16 – 59th running of the World Championship Derby
1/17 – 2021 Military Ride
1/20 – Member meeting 6:30pm – Buckshots Bar & Grill – Hwy 45N
1/27-30 – Women on Snow – Eagle Waters Resort – Rangeline Rd off Hwy 70
Snowmobile Information: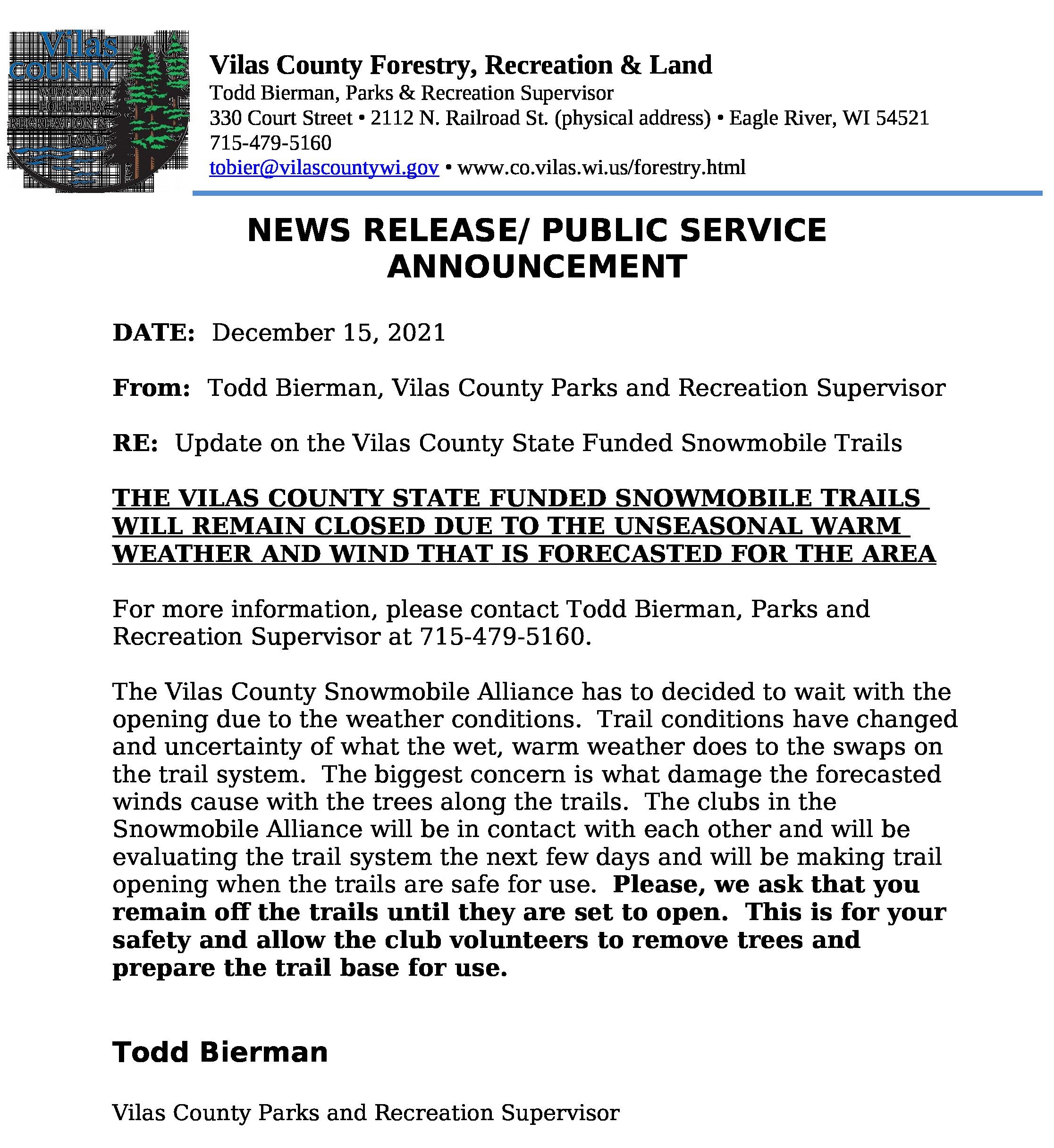 Snowmobile Information:
Wisconsin Snowmobile Registration
Discount Trail Pass for Snowmobile Club Members – $10 – Time to join a club!
Standard Wisconsin Trail Pass – $30
Out of State Trail Pass – $50
Vilas County Map It Trail App GPS style app of all trails in Vilas Cty. Plus includes the brown 3 digit emergency numbering system. If an emergency happens call 911 & give them that number. Find you quicker.
Groomer Tracking Systems (GTS) Gives you trails groomed in last 24, 48 & 96 hours