Reporter:
Holly t
Trail Conditions:
Closed
Snow Cover:
24 inches off trail - 12+- on trails
Date of Report
: December 13, 2019
Area Report:
December 13, 2019 – 6:40am – 18 degrees
SNOWMOBILE TRAILS IN EAGLE RIVER
& ALL OF VILAS COUNTY ARE NOT OPEN.
Set to open at 8am Friday, December 20!!!!
Plenty of SNOW in Eagle River & all of Vilas County! Another 5 inches plus yesterday. Today 26 for a high & 15 for a low. With a chance of SNOW tonight into tomorrow. Forecast is for 1-2 inches.
Today Sno-Eagles Eagle River trails will be inspected by Parks & Rec department. Several other clubs remain to be inspected meaning the Parks & Rec Administrator & assistant will be out this weekend as well. Moving to the opening date of December 20th!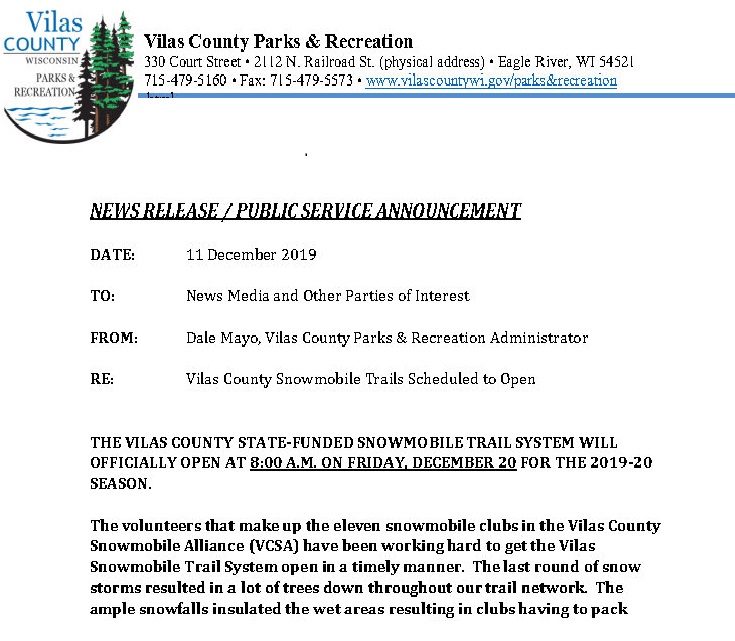 Be Patient. Almost time!!! Keep THINKING COLD!
See ya on the trails December 20th!!!
Holly Tomlanovich
THE SNOWMOBILE CAPITAL OF THE WORLD® – Eagle River
Phone Trail Updates 715.479.5185

Sno-Eagles Snowmobile Club
News and Reports:
Events

December 13 – Sno-Eagles Christmas party at Catch 22
December 25

–

Merry Christmas!
January 7 – BOD meeting at 6PM at World Snowmobile HQ
January 10-12 – Vintage World Championship Snowmobile Derby – Food booth volunteers needed
January 17-19 – World Championship Snowmobile Derby – Food booth volunteers needed
Contact Club President, Howard Wolfe at 262.442.4876 to sign up for any event.
Snowmobile Information:
Handy Snowmobile Links
Wisconsin Snowmobile Registration
Discount Trail Pass for Snowmobile Club Members – $10
Standard Wisconsin Trail Pass – $30
Out of State Trail Pass – $50
Vilas County Map It Trail App GPS style app of all trails in Vilas Cty. Plus includes the brown 3 digit emergency numbering system. If an emergency happens call 911 & give them that number. Find you quicker.