Snowmobiling Information
---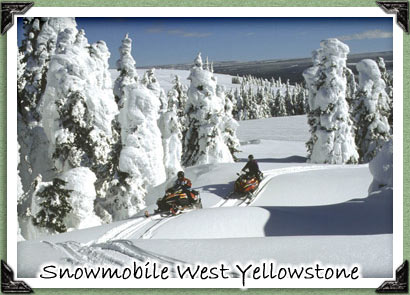 West Yellowstone is undoubtedly snowmobiling's Garden of Eden. With more than 600 miles of trails through some of the most breathtaking scenery anywhere, it invariably tops the list of favorite sledding destinations.
The trail system begins right in town, where snowmobilers share city streets with motorists. There are 200 miles of groomed trails inside the park, and 400 miles outside. The town of Gardiner is just outside the park's North Entrance, which is another access point to park trails. All roads except Mammoth to Cooke City and Canyon to Tower are open to snowmobiles. Ride from West Yellowstone to the Grand Loop, which takes you to Old Faithful, Yellowstone Lake, Norris Geyser Basin and many other of the park's favorite attractions.
There are also hundreds of miles of trails in the Gallatin, Beaverhead-Deerlodge and Targhee forests in this system. Snowmobile sales, service and a full range of lodging and food services are available in West Yellowstone and Gardiner. Guided tours and packages are also available. Inside the park, lodging, food and fuel are available.
Future of Winter Access in Yellowstone
Yellowstone National Park and the National Park Service have begun a two-year project to prepare the next long-term plan for managing winter use in America's first national park. That plan is to take effect in the winter of 2011-12.
Already in place for the winters of 2009-2010 and 2010-2011 is a temporary plan that includes limited, regulated snowmobile and snowcoach access into Yellowstone. That plan allows up to 318 snowmobiles a day—led by commercial guides and using cleaner and quieter "best available technology" machines, or BAT for short?into the park. It also permits up to 78 commercially guided, multi-passenger snowcoaches a day. This interim plan continues to allow motorized snow travel across Sylvan Pass and the East Entrance road to the park.
At the end of next winter, however, all motorized snow-vehicle access into Yellowstone will end unless a new plan to manage such use is in place. For more than a decade, the question of snowmobile use in the park has provoked intense discussion and debate, as well as numerous lawsuits and court decisions.
Getting involved in the park's next winter-use plan means speaking your mind—in person, on paper or in cyberspace. Whatever medium you choose, this is the way to make your ideas and opinions known both to the world and to the National Park Service as it drafts alternative visions and versions of this important planning document. There will be opportunities to participate now, during the public "scoping" period for the plan, as well as later, when a first draft has been prepared, sometime in the first half of 2011.
Public scoping comes first. It began in January and runs until late March, and it includes in-person meetings, a location for your online comments and a place to mail comments written on paper. In scoping, the park is asking you, the public, to help define the "scope" of the winter plan. Yellowstone wants to know what issues and topics you should be analyzed and alternatives considered. Should more or fewer snowmobiles be allowed in the park? Here's your chance to say what you think. What should the plan say about air quality, noise, public enjoyment and protection of wildlife?
You can mail or hand-deliver comments, or go to this web address and fill out a comment form, http://parkplanning.nps.gov/commentForm.cfm?parkID=111&projectID=29281&documentId=31782
We need the ideas and input from the snowmobile community to ensure Yellowstone access in the future.
---