Trail Conditions:
Open
Snow Cover:
43'-126"
Date of Report
: March 10, 2017
Area Report:
Spring Riding Conditions in lower areas around West Yellowstone MT. Warmer temps with some rain/snow showers thrown in. Higher elevations maintaining snowpack. Be aware of avalanche conditions.
News and Reports:
SNOW DEPTH & TRAIL GROOMING REPORTS 3.10.17:
Trails Groomed: South Plateau including Whiskey and Black Bear Cutoff, Two Top Loop via Mosquito. Trails are groomed nightly on a rotating schedule. Snow Depths (via Snotel): West Yellowstone (in town) 43 in; Whiskey Creek 56 in; Madison Plateau 79 in; Black Bear 126 in; Lionhead 69.7 in; Beaver Creek 59 in; Carrot Basin 91 in; White Elephant 85 in; Island Park 46 in; Canyon (Yellowstone Park) 61 in. Daily reports: http://bit.ly/2jsKqMh
Snowmobile Information:
Guided trips into Yellowstone National Park end March 15th. Access to National Forest still good.
Snowmobiling Information
---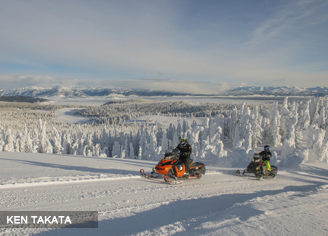 West Yellowstone is undoubtedly a snowmobiler's paradise. With more than 143 inches of snow annually, and 400 miles of trails through some of the most breathtaking scenery anywhere, it continues to top the list of favorite sledding destinations. The trail system begins right in town, where snowmobilers share city streets with motorists, and onto trails in the Custer-Gallatin, Beaverhead and Targhee National forests. Groomed trails provide access to off-trail powder meadows and more advanced back country riding.
Local businesses provide snowmobile and clothing rentals on a daily or multi-day basis. Snowmobile rentals range from two-up easy riding and trail models to high-powered sleds adapted for mountain and back country riding. Additional equipment, including avalanche beacons and shovels for back country riding can also be rented. National Forest guide service is also available for snowmobilers new to the area, and who want to learn more about the trail system or for back country riding.
Access to Yellowstone National Park is offered daily with guided snowmobile and snowcoach trips. Non-commercial trips are offered through a lottery entered in September. All machines must be 4-stroke, certified. Experiencing Yellowstone in the winter is a time you will never forget!
(For more information regarding Yellowstone winter access visit https://www.nps.gov/yell/planyourvisit/visiting-yellowstone-in-winter.htm)
A full range of lodging and food services are available in West Yellowstone, so you can escape into the mountains right from your doorstep!
For more information about snowmobiling, trail reports and other winter adventures, visit DestinationYellowstone.com.
---