Reporter:
Yellowstone Adventures
Trail Conditions:
Good
Snow Cover:
Small amount of new snow has fallen in the past 24 hours
Date of Report
: February 6, 2018
Area Report:
All trails are open and being groomed regularly. Snow cover is between 12 inches to 6 ft. up high. 
Warm weather has effected lower elevations the past couple of days and should be getting cooler temps beginning today. 
Snowmobiling Information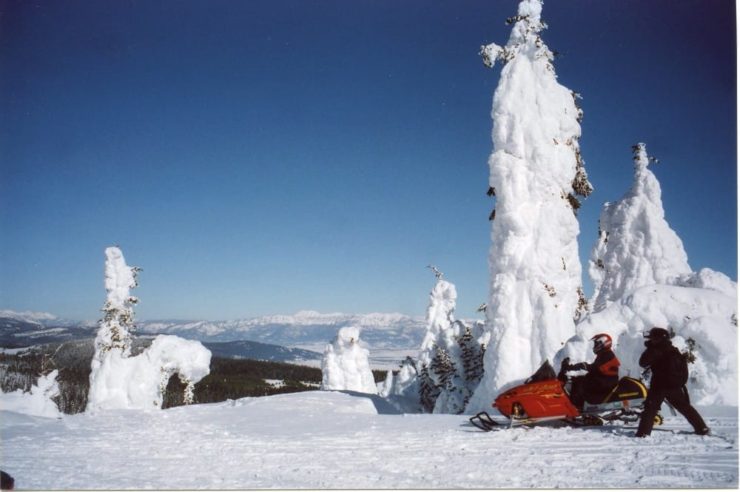 (images provided by Brandin' Iron Inn)
WEST YELLOWSTONE, MONTANA: THE SNOWMOBILE CAPITAL OF THE WORLD
"The Snowmobile Capital of the World," "Top #1 and #2 Snowmobile Trails in the West"- these are just a few accolades West Yellowstone, Montana has earned among the vast snowmobiling community. For nearly fifteen years, West Yellowstone, Montana has remained the West's most popular snowmobile destination. Its proximity to Yellowstone Park makes it an optimal destination location for snowmobile enthusiasts around the world.

ABOUT WEST YELLOWSTONE, MONTANA
As its west entrance, West Yellowstone, Montana is the most popular gateway to Yellowstone National Park. As a town, West Yellowstone's local community offers a rich bevy of amenities and activities, from shopping to dining and more. As the premiere destination for snowmobile adventures, West Yellowstone's impeccably groomed trails, dependable wintry weather, and hundreds of miles of "open play areas" make it the perfect location for all snowmobile-related activities.
From our lodging facility you can ride your snowmobile on the street (legally) just minutes to the nearest trailhead that connects with over 300 miles of 15+ foot wide groomed snowmobile trails. The town celebrates its favorite weather with special events like ice fishing tournaments, dog sled races, and Nordic Ski races. Its annual Snowmobile Expo and Powersports Show showcases snowmobile gear vendors, new snowmobile models, featured exhibitions, and much more.
When you're ready to explore outside of Yellowstone Park, the trails in and around West Yellowstone are perfect for non-guided snowmobile rides and off-trail play. Our trails are easy to navigate, and the snowmobile trails maps are provided by the West Yellowstone Chamber of Commerce are available at most West Yellowstone businesses. Each intersection on the map has a number, and out on the trail there is a corresponding number. Our staff at the Brandin' Iron Inn is the most experienced in the area, and can match your needs and wishes with one of the preferred vendors we use. Let us book the trip for you, or use one of our convenient winter packages.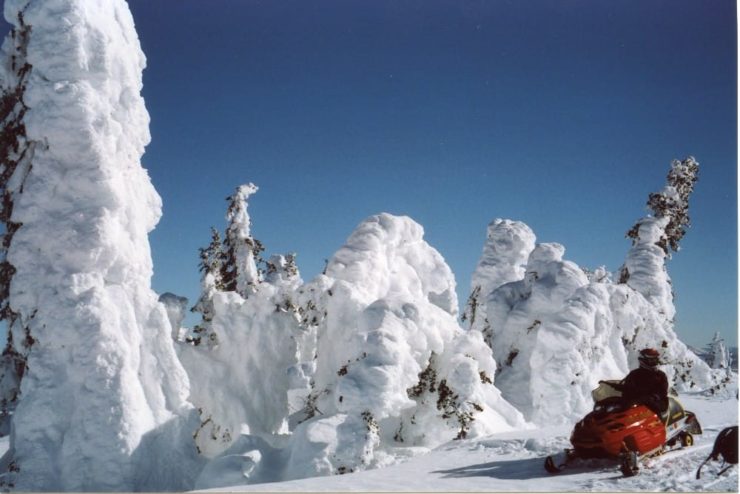 WHEN TO VISIT WEST YELLOWSTONE, MONTANA
As the "Snowmobile Capital of the World," West Yellowstone, Montana enjoys consistent and heavy periods of snow. By November, the town begins its eventual accumulation of over twelve feet of snow, so snowmobile season begins between Halloween and Thanksgiving.
Yellowstone Park's guided winter season officially begins by December 15th and ends by March 15th. January is often the coldest month, and March the warmest. Higher elevation snowmobile trails are available into May.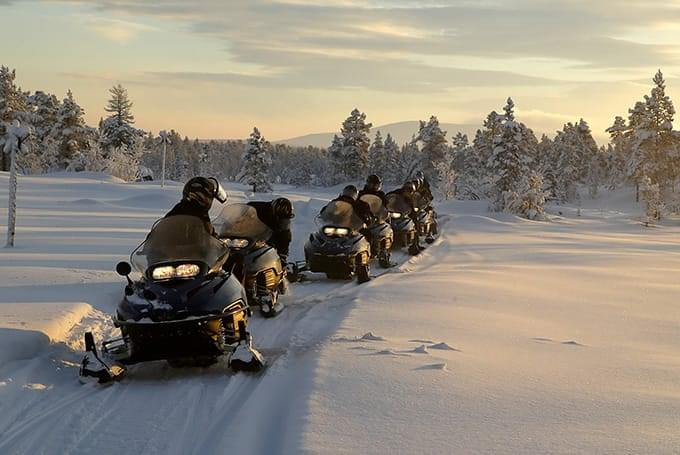 WHERE TO RIDE SNOWMOBILES IN WEST YELLOWSTONE, MONTANA
West Yellowstone's extensive snowmobile trail system features hundreds of miles of seamless snowmobile terrain and includes Idaho's snowmobile trails. Visitors are free to snowmobile over the many vistas overlooking Montana, Idaho, Wyoming, and Yellowstone National Park.
West Yellowstone's reputation for trail grooming and maintenance remains a staple of their tourist market. Judge their handiwork for yourself while exploring any one of these treasured trail:
Two Top Mountain Trail: Perhaps the most popular snowmobile trail in the area, this snowmobile loop trail offers some of the best opportunities for snowmobile fun. Don't miss a glimpse of the "ghost trees" as you set on top of this 9,000-foot mountain! These trees are so impacted with snow that they resemble "white ghosts" to the visitors passing by. When on the Two Top Mountain Trail, you are literally straddling the continental Divide, which is also the border of Montana and Idaho. This trail provides great access to those wishing to play off trail, or drop off the mountain to one of Idaho's lunch stops only accessible by snowmobile.
Lionhead Mountain Trail: This favored loop trail takes you up to almost 10,000′, and is one of the gateway trails to the deep and steep powder snowmobile play areas near West Yellowstone. This is a loop trail, or use it to interconnect with the Two Top, or Idaho snowmobile trails.
Big Sky Trail: This snowmobile trail heads north of West Yellowstone, offering a variety of scenery, vistas and powder play. At the end of the groomed trail, about 18 miles from West Yellowstone, the trail continues on ungroomed into and through the largest play area in the region. Some of the deepest snow, and steepest mountains can assure any level of snowmobiler a full day of "high marking" and "powder carving".
South Plateau Trail: This is one of the longest loop trails in the area and directly parallels Yellowstone National Park. You can spend most of a day on this trail or playing in the powder along the way. This trail can interconnects with the Idaho trail system, so you can return over the Two Top trail, after stopping in Idaho for lunch.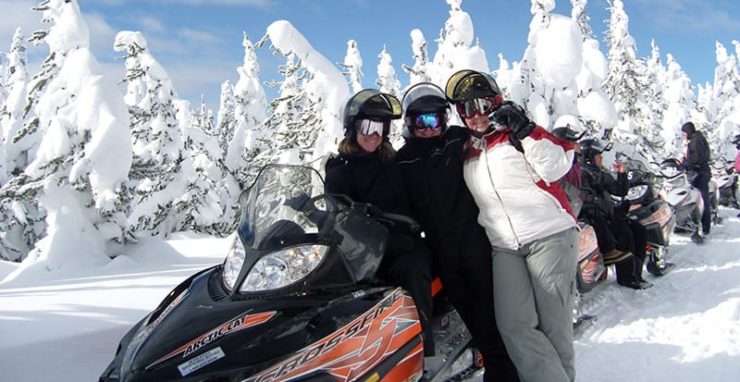 RENTING SNOWMOBILES IN WEST YELLOWSTONE, MONTANA
As a premiere snowmobiling destination, West Yellowstone offers more snowmobile rentals, models, and brands than any other region in the country. Instead of hauling your own snowmobile with you and having to adjust it to the high elevation and deep powder, consider renting a snowmobile from any of West Yellowstone's fine vendors.
West Yellowstone snowmobile rental companies offer a variety of true mountain sleds designed for on and off-trail adventures. Ask any of the Brandin' Iron staff or locals for their preferred snowmobile rental vendors that will meet your riding abilities and style. When bringing your own snowmobile, the Brandin' Iron Inn has plenty of large vehicle parking available, along with plugins for your block heater.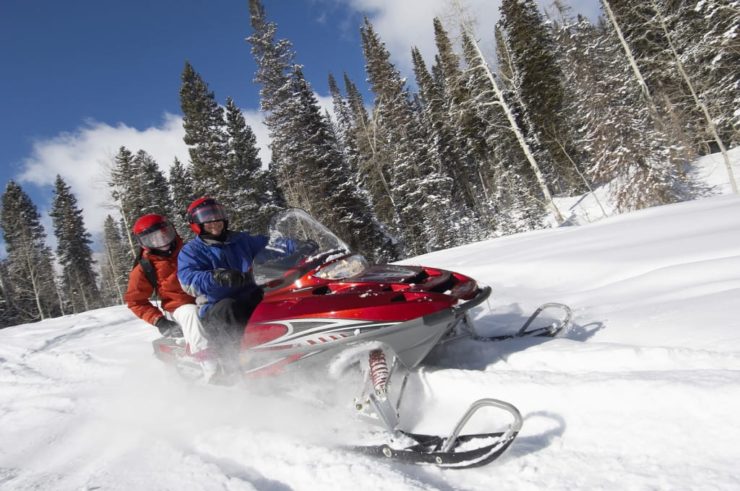 PLANNING A SNOWMOBILE TRIP TO WEST YELLOWSTONE, MONTANA
Snowmobile tour and Snowcoach reservations are highly recommended, especially if you plan to visit during the busy Christmas or New Year's Day holidays. Be sure to indicate whether you intend to snowmobile inside or outside Yellowstone National Park.
Next, determine if you'd prefer to bring your own snowmobile or rent one – your rental company or the Brandin' Iron Inn staff can offer discount packages or recommendations if you chose to rent. You can bring your own snowmobile clothing and helmet or rent from a vendor. West Yellowstone's trails are easy to navigate, and maps are available at most West Yellowstone businesses.
---