Trail Conditions:
Closed
Snow Cover:
On trails 0
Date of Report
: January 3, 2017
Area Report:
More warm weather and sun has done all trails in, it is to get cold but still no snow in the forcast for the next 15 days. We started out so good and even had our trails all groomed but like it has been in the last few years we are going to have to start all over. PLEASE if you are out and see one of the trail boxes throw a couple of bucks in as all of you know our great State Of Illinois has still not passed a budget so all our snowmobile funds are froze as of yet so everything is out of the clubs pocket. When we get snow PLEASE REMEMBER TO STAY ON MARKED TRAILS and RIDE SAFE
Snowmobiling Information
---
Nestled in Northwest Illinois is Stephenson County with its scenic, well-marked and groomed trails.
The Cedarville Snow Travelers' trails begin at the Wes Block Trailhead on the Jane Addams trail which is located on Route 20 West bypass around Freeport. This trail follows the IL Central Railroad bed where you will pass through dolomite rock cuts and cross 21 bridges on your 13 mile trek to Wisconsin where it connects with the Badger Trail. Along the way, you can stop for a warm welcome at the village of Orangeville for refreshments and fuel.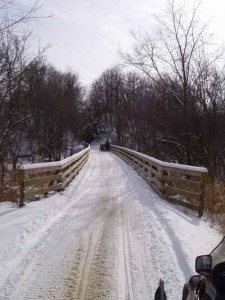 Trails branch off from the Jane Addams trail in different directions. If you head south at the Wes Block Trailhead, you will cross the Pecatonica River on an old iron railroad bridge on your way to Pearl City. As you approach Bolton Road, you will encounter the area's well know cable bridge that crosses the Yellow Creek. That's an adventure in itself! Other trails lead to areas where you can stop and experience small town hospitality.
Check out cedarvillesnowtravelers.com for the latest news and information on northwest Illinois trails!
---