Reporter:
rltourism
Trail Conditions:
Fair
Snow Cover:
6-8 inches
Date of Report
: January 10, 2020
Area Report:
WELCOME BACK FOR THE 2019/2020 SEASON
The Barron County Snowmobile Trails are OPEN as of Friday, January 10th at noon. All trails will be open and groomed in fair condition. Caution should be used when encountering wetlands as some are not completely frozen.
A reminder that nearly all of the Barron County snowmobile trails use privately owned lands that we will not have access to if individuals continue to ride off the marked trails. Cutting corners and riding across fields outside of the marked trail is trespassing and will be strictly enforced.
We are also receiving an increasing number of complaints from noise caused by modified snowmobile exhaust systems, this is also illegal and citations will be issued to violators. To report off trail riding, other violations, or any trail concerns contact the Barron County Sheriff's Office at 715-537-3106.
Please call 715-637-4275 if you have any questions or looking for a map of the Barron County snowmobile trails. You can also check the Rice Lake, Wisconsin Facebook page or www.travelwisconsin.com for updated trail conditions.
Snowmobiling Information
Click Here
to order a Rice Lake & Barron County, WI snowmobile trail map. (Please include your Name, Address, City, State and Zip with your map request.)
---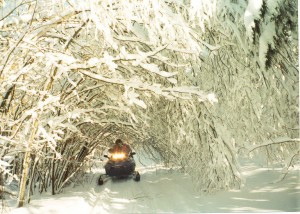 Rice Lake in Barron County is a modern city of 8,000 located in northwest Wisconsin. It is the most perfect and convenient destination-hub for snowmobiling and all other winter recreation.
More than 250 miles of groomed snowmobile trails lace Barron County, including the popular Tuscobia State Trail with 76 miles heading east from Rice Lake to Park Falls; the Wild Rivers Trail heading north from Rice Lake's city limits leads 97 miles to Superior; snowmobiling on the groomed trails of Christie Mountain Ski Area has become very popular; and there's lots more in between, including the surrounding forests and hills and dales of the Blue Hills east of Rice Lake!
At the end of the day, Rice Lake has everything a snowmobiler could want, including several excellent motels http://ricelakewis.com/lodging/hotels-motels and many area resorts where you can lay your head.
Rice Lake also boasts a wide range dining and entertainment spots, including Lehman's Supper Club; Adventures Sporting Pub & Cafe; Fat Man's; Drag's Restaurant; and Dana's Beer Cheese Bar & Grill, to name just a few; or, stop at the Blue Hills Inn when you're in the Blue Hills.
In other seasons, golfers come from all over to golf and dine at Rice Lake's "must play" Turtleback Golf, Dining and Conference Center (a Golf Digest 4-star course); shoot 18-holes at Tagalong's challenging "Scottish-style" Golf Course overlooking Red Cedar Lake near Birchwood; or tee off at nearly a dozen other sporty nine-and 18-hole courses within easy driving distance.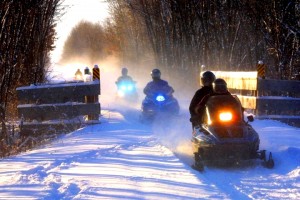 There's also racing at the Rice Lake Speedway, from late May through the summer.
"No community our size in Wisconsin provides the variety of recreation, arts, and educational opportunities that we do."
"In short, Rice Lake has services and infrastructure to rival big cities, but without big city hassles. That includes exceptional medical and public services, outstanding shopping venues; top motel/hotels, resorts and B & B's; food for every taste and wallet — and, a warm and very friendly population."
Rice Lake is conveniently located just off of US Highway 53 — 60 miles north of Eau Claire; 395 miles north of Chicago; 100 miles south of Duluth; and 100 miles east of the Twin Cities.
For more information, contact the
Rice Lake Tourism Commission:

PO Box 507 / 2961 Decker Drive
Rice Lake, WI, 54868
Phone: 800-523-6318
FAX: 715-434-8888
E-mail: info@ricelaketourism.com
Web Site: www.ricelaketourism.com
---