Snowmobiling Information
---
T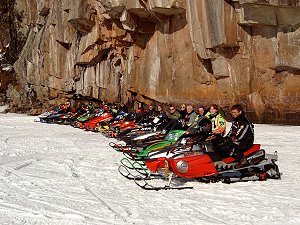 he Ely area is northern Minnesota's premier snowmobile hub with numerous on-trail facilities, accommodations for
both large and small groups, and with plenty of food, entertainment and service centers. The Taconite Trail is the
main thoroughfare in and out of Ely in the winter. Stretching 170 miles between Ely and Grand Rapids to the
southwest, many spur routes will take you just about anywhere you want to go. The Tomahawk Trail, heading to
the east, has 86 miles of varied terrain which the avid snowmobiler can use to connect up with hundreds of miles more of groomed trails.
If good snowmobiling gets you excited about winter, then try out the 170 mile long Taconite Trail and the 80 mile Tomahawk Trail. The Taconite Trail, or the "Mighty Taconite" as the locals call it, runs from Ely to Grand Rapids. It streches across three state forests and the Superior National Forest. Smooth rides along this famous route are loaded with history and the Ta
conite's many spurs and loops make for some quality modern day pioneering.
The Tomahawk Trail runs from Ely to the North Shore and Yukon Trails. The trail works closely with natural terrain and is one of the most scenic trails in the state. The tree cover that surrounds the trail edges, the lack of traffic and development allows you to have an unihabited experience.
Many riders return to the Ely area each winter to enjoy its sheer beauty and varied terrain. It's a region where people clearly love snowmobiling and they know how to make you feel welcome. Find out for yourself!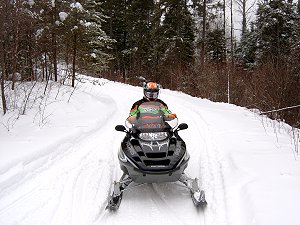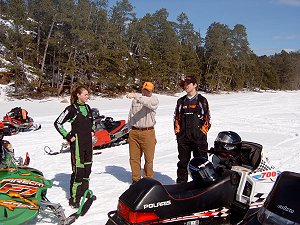 ---
Trail Conditions:
Good
Snow Cover:
18
Date of Report
: January 19, 2017
Area Report:
Ely Area Lakes & Trails: Area lakes have ice cover of varying depths.  With warmer than normal temperatures, some lakes may developing areas of slush.  Area lakes have been staked and some lakes may have areas of slush.  Use caution on lakes and check ice conditions before venturing out. 
Echo Trail: Fenske Lake and other short trails along the Echo Trail have been groomed and staked. 
Taconite Trail: Snow – 22-26" depth  Base – 3-5"  Groomed – yes  Condition – good  The entire Taconite from Ely to Hwy 73 is groomed and in fair to good condition, save for a small section of open water between Big Aspen and Pfeiffer Lake.  This section is flagged, signed and passable.
 Arrowhead Trail: Snow – 24-30" depth  Base – 3-5"  Groomed – yes  Condition – fair to good  The entire Arrowhead is groomed and in fair to good condition except for a two-mile portion going north over a swamp from the Orr South Grant-in-Aid trail.  Crews hope to have this section groomed by the weekend.
Putnam-Fishing Lakes Trail: Groomed – no  Condition – fair
Lake Vermilion State Park and Soudan Underground Mine State Park: Groomed and in good condition
Taconite Spur Trails and Stony Spur Trails: Base – 2-4"  Groomed – partially Condition – poor THE HIDDEN BAY portion the trail linking up to Stony Spur has been closed due to logging.  Please avoid the Hidden Bay area for safety reasons.  Taconite and Stony Spurs are groomed.
Babbitt Area Trails: All trails are groomed and in good condition. 
Tomahawk Trail & Local Trails: Base – 4-6"  Trail is cleared through to the North Shore from Ely.  Most of the trail is groomed; however, swamps and wetlands have not yet frozen so groomers are unable to do that portion of the trails.  Trails are in fair to good condition.   
News and Reports:
Ely Winter Fest  February 2, 2017 – February 12, 2017 | All Day  Ten days of winter fun in Ely.  Snow carvings in the park, art in merchant windows, food, music, winter sports and many other events.  Fun for the entire family.  Don't miss out on this spectacular annual event.  Fees: Most events are free – see website for details on specific events and fees.
Ely Art Walk  February 2, 2017 – February 12, 2017 | All Day  Tour Ely and view breath-taking artwork created by local artisans.  Map of locations available at Ely Greenstone website.   Free
Ely Community Resource Spaghetti Dinner February 3, 2017 | 4:00 pm – 7:00 pm  Join us for the kick off to the Ely Winter Festival.  Serving dinner from 4 to 7 pm at St. Anthony's Catholic Church.  Vegetarian and gluten free options available.  Buy your tickets in advance from ECR Board members, at the ECR Office (Frandsen Bank Building), or show (or buy) your pin at the door and get $1.00 off!  Adults: $9.00 ($8.00 in advance)  $1.00 off with Festival pin  Children 4-12: $6.00 ($5.00 in advance)  Children under 4: Free  St. Anthony's Church Hall Camp St., Ely, MN, 55731
WolfTrack Classic Vet Check & Meet the Dogs & Mushers  February 25, 2017 | 11:00 am – 3:00 pm  The vet check runs from 11 am – 3 pm at Vermilion Community College.  Meet the dogs and mushers.  Wilderness Club Concessions Fund Raiser during Vet Check
WolfTrack Classic Pre-Race Dinner  February 25, 2017 | 4:00 pm – 7:30 pm  Our pre-race lasagna dinner runs from 4 pm to 7 pm.  Social hour 4-5 pm, dinner 5-6:30 pm, musher meeting from 6:30-7 pm and presentation of the bibs at 7 pm.  Fee is $10.00/person at the door.  Credit cards welcome.  Ely Senior Center  7 S 1st Ave E., Ely, MN, 55731
WolfTrack Classic Sled Dog Race  February 26, 2017 | All Day  Join us for this premier mid-distance sled dog race spanning 65 miles through northern Minnesota's State Trail system.  The WolfTrack Classic is known for its unrelenting hills that test the stamina of mushers and dogs across the scenic north woods terrain.   Race starts at 9 am.  Fees: No spectator fees  Softball Fields  Old Airport Road and State Highway #1, Ely, MN, 55731
Snowmobile Information:
Northland 300 – Snowmobile Event  January 18, 2017 – January 22, 2017 | All Day  Four day event includes trail riding, banquet and prize drawings.  Fees to participate.  Learn more at www.northland300.org.   Grand Ely Lodge  400 N Pioneer Road, Ely, MN, 55731
Fun Run – Snowmobile Event  January 28, 2017 | All Day Spend a day of fun – either by snowmobile or car – traveling the northland.  Money raised goes to support snowmobile trails in the Ely, Tower and Babbitt area. Fees to participate  Fortune Bay 1430 Bois Forte Rd, Tower, MN, 55790
Pink Ribbon Riders 11th Annual Snow Run  February 24, 2017 – February 25, 2017 | All Day  The Snow Run is an event open to both men and women, including a welcome social, snowmobile ride(s), awards banquet and more! Fees to participate.  Grand Ely Lodge  400 N Pioneer Road, Ely, MN, 55731