Snowmobiling Information
---
T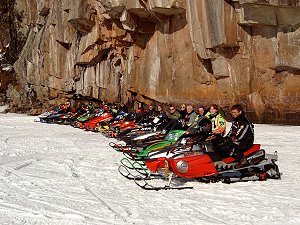 he Ely area is northern Minnesota's premier snowmobile hub with numerous on-trail facilities, accommodations for
both large and small groups, and with plenty of food, entertainment and service centers. The Taconite Trail is the
main thoroughfare in and out of Ely in the winter. Stretching 170 miles between Ely and Grand Rapids to the
southwest, many spur routes will take you just about anywhere you want to go. The Tomahawk Trail, heading to
the east, has 86 miles of varied terrain which the avid snowmobiler can use to connect up with hundreds of miles more of groomed trails.
If good snowmobiling gets you excited about winter, then try out the 170 mile long Taconite Trail and the 80 mile Tomahawk Trail. The Taconite Trail, or the "Mighty Taconite" as the locals call it, runs from Ely to Grand Rapids. It streches across three state forests and the Superior National Forest. Smooth rides along this famous route are loaded with history and the Ta
conite's many spurs and loops make for some quality modern day pioneering.
The Tomahawk Trail runs from Ely to the North Shore and Yukon Trails. The trail works closely with natural terrain and is one of the most scenic trails in the state. The tree cover that surrounds the trail edges, the lack of traffic and development allows you to have an unihabited experience.
Many riders return to the Ely area each winter to enjoy its sheer beauty and varied terrain. It's a region where people clearly love snowmobiling and they know how to make you feel welcome. Find out for yourself!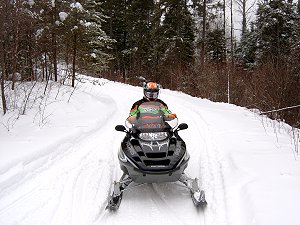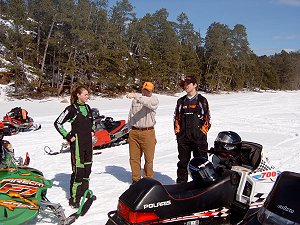 ---
Trail Conditions:
Good
Snow Cover:
18+ inches
Date of Report
: February 16, 2017
Area Report:
Ely Area Lakes & Trails: Area trails are groomed with grooming continuing as overnight temperatures remain below 20F.  Snowmobile trails are currently rated as very good with average trail bases in the Ely area of 4-9 inches.  Groomers anticipate that even with the predicted weekend warm-up snowmobile trails will hold-up through Sunday. 
Echo Trail: Fenske Lake and other short trails along the Echo Trail are staked and groomed. 
Taconite Trail: Snow – 10-24" depth  Base – 2-8"  Groomed – yes  Condition – very good   The entire Taconite from Ely to Hwy 73 is groomed and in very good condition.  There is a small section of open water between Big Aspen and Pfeiffer Lake.  This section is flagged and passable.
 Arrowhead Trail: Snow – 10-26" depth  Base – 3-9"  Groomed – yes  Condition – very good  The entire Arrowhead is groomed and in very good condition.  Use caution when crossing the bridge in the Lost Lake swamp due to thin ice and open water.  This bridge is located two miles north on the Arrowhead from the Hwy 1 crossing.  Also, be aware of and slow down for logging activity on the Arrowhead north of Hwy 1, north of Hoodoo Lake, and north of Elephant Lake Rd.
Putnam-Fishing Lakes Trail: Trail base – 2-8" Groomed – yes  Condition –very good
Lake Vermilion State Park and Soudan Underground Mine State Park: Trail base – 3-5"  Groomed – yes  Condition – very good
Taconite Spur Trails and Stony Spur Trails: Base – 2-8"  Groomed – yes  Condition – good   Stony Spur And Taconite Spur are groomed and in good shape. 
Tomahawk Trail & Local Trails: Base – 4-6"  Everything is groomed.  Some light logging activity is occurring in the Spruce Road and Hidden Bay areas, so please slow down and use caution.  These areas will not be closed or posted.  Trails are in very good condition.  Mud Lake to Vermilion still has a swampy area that has not frozen, so the unfrozen area is not currently groomed.