Reporter:
boulderwi
Trail Conditions:
Fair
Snow Cover:
18-24 inches
Date of Report
: March 22, 2019
Area Report:
Trail report for March 22, 2019– Trails are fair. It is currently about 18 Deg above zero. The snowmobile trails will officially close at 11:59 P. M. Sunday March 24, 2019. The road routes and road crossings are very bare. There are puddles and bare spots on the corners and other areas. Please use caution. Away from town the conditions do get better and there is very low traffic. Our trails will continue to degrade over the next couple of days with the warm temps. I would like to thank everyone involved in making our trails top notch and the great job our groomers did. We had a great season! Remember to be safe, ride right, and enjoy the ride.
~Jim (Hammy) Hamilton, Boulder Junction Snowmobile Club President
Snowmobiling Information
Webcam
Click Here to order a Boulder Junction, WI snowmobile trail map.
(Please include your Name, Address, City, State and Zip with your map request.)
---
The snowmobiling is outstanding in the Musky Capital of the World®. Explore hundreds of miles of well-groomed trails and enjoy outstanding woodland scenery. Local restaurants, lodging properties and retailers have been catering to snowmobilers for decades. When the snow flies, Boulder Junction is the place to be!
Boulder Junction is surrounded by 130 miles of local trails which connect with thousands of miles of trails running throughout northern Wisconsin and the Upper Peninsula of Michigan. The dedicated, hardworking Boulder Junction Snowmobile Club keeps area trails in fantastic condition throughout the season.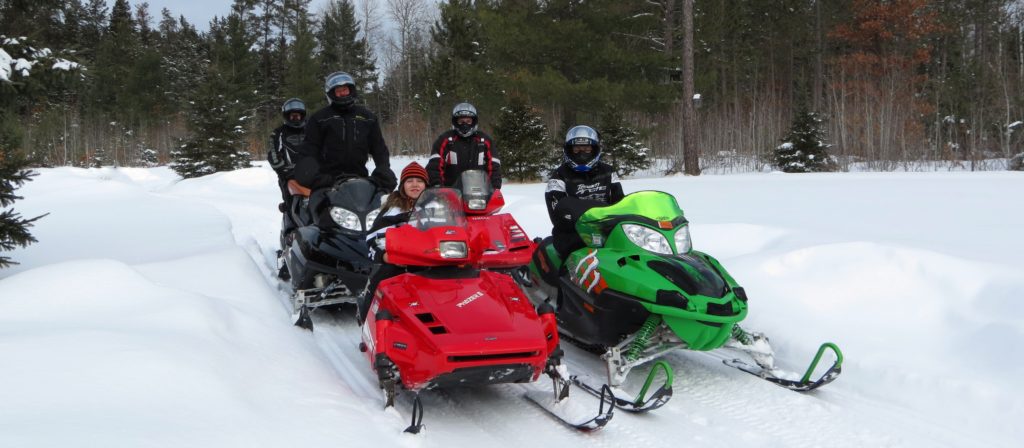 When there isn't snow on the ground, vacationers come from across the Midwest to boat, paddle and swim the area's 194 crystal clear lakes. The fishing for musky, walleye, bass and panfish is second to none. And Boulder Junction's biking and hiking trail system is among the best in Wisconsin, offering both paved and unpaved trails. Simply put, Boulder Junction is the classic Northwoods vacation destination.
---