Reporter:
boulderwi
Trail Conditions:
Closed
Snow Cover:
1-2
Date of Report
: December 8, 2017
Area Report:
Initial trail report 8 Dec 2017
The target date for the opening of the trails will not be on December 12, 2017 as planned due to the poor weather conditions. It will be a later date determined safe for the county opening. The swamps and boggy areas in the county need to freeze up for safely riding the trails.  Boulder Junction has been inspected and all deficiencies corrected. As of now we don't have enough snow. With continued cold weather and more snow in our forecast this will only help. As always when the trails do open up please use more caution in the early season riding. I would like to thank everyone involved for their hard work in clearing and signing the Boulder Junction Trail system. Cross your fingers and pray for snow and cold.  Think Snow!
BJSC President
Jim (Hammy) Hamilton
For travel information and maps, visit boulderjct.org or call 1-800-GO-MUSKY
Join us for these upcoming events: January 6: Boulder Junction Snowmobile Club Brat Fry January 14: Boulder Junction Snowmobile Club Breakfast February 18: Boulder Junction Snowmobile Club Breakfast March 3: Boulder Junction Snowmobile Cabin Fever Party
Snowmobiling Information
Click Here to order a Boulder Junction, WI snowmobile trail map.
(Please include your Name, Address, City, State and Zip with your map request.)
---
The snowmobiling is outstanding in the Musky Capital of the World®. Explore hundreds of miles of well-groomed trails and enjoy outstanding woodland scenery. Local restaurants, lodging properties and retailers have been catering to snowmobilers for decades. When the snow flies, Boulder Junction is the place to be!
Boulder Junction is surrounded by 130 miles of local trails which connect with thousands of miles of trails running throughout northern Wisconsin and the Upper Peninsula of Michigan. The dedicated, hardworking Boulder Junction Snowmobile Club keeps area trails in fantastic condition throughout the season.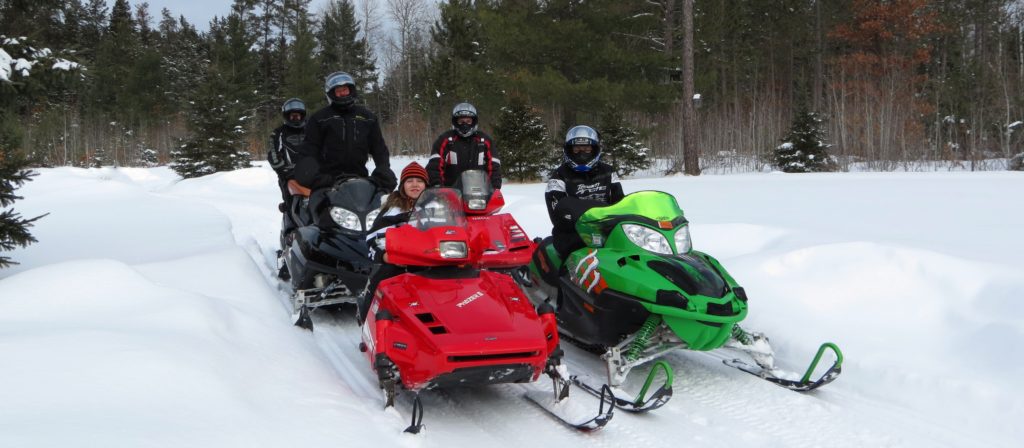 When there isn't snow on the ground, vacationers come from across the Midwest to boat, paddle and swim the area's 194 crystal clear lakes. The fishing for musky, walleye, bass and panfish is second to none. And Boulder Junction's biking and hiking trail system is among the best in Wisconsin, offering both paved and unpaved trails. Simply put, Boulder Junction is the classic Northwoods vacation destination.
---