Snowmobiling Information
Click Here
to order a Oconto County, WI snowmobile trail map. (Please include your Name, Address, City, State and Zip with your map request.)
---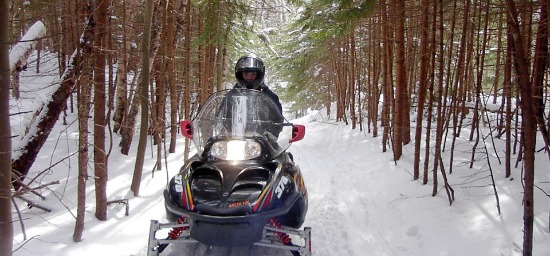 When the snow begins to fall, snowmobile excitement quickly rises in Oconto County. Well marked and meticulously maintained trails meander through this region providing a true Northwoods riding experience. Perhaps one of the most well known trails in the state is the Nicolet State Recreational Trail, marked as State Corridor 7.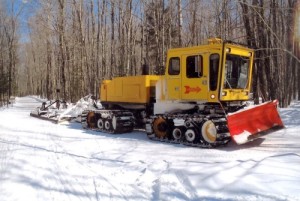 This 89 mile long former railroad grade offers a north-south route from Gillett thru the towns of Suring, Mountain, Lakewood and Townsend all the way north to the Michigan border and to the UP trail systems.
From this main route, riders can choose from unlimited destinations such as a very scenic ride on the Chute Pond Trail System near Mountain.
Just north, the Paul Bunyan trails in the Lakewood area, and the Red Arrow trails around Townsend lead to interconnecting trails that head in every direction. These include westbound connections to Langlade County and the Wolf River State Recreational trail.
You can also go northeast toward Waubee and Wheeler Lakes
or east to Marinette County where trails around the Caldron Falls and High Falls Reservoirs and the scenic Peshtigo River are maintained by the Iron Snowshoe club.
North of Crivitz, local trails connect with State Corridor 3 for a journey north to the Dunbar, Goodman and Pembine areas. From this point riders have the option of taking a trek into Michigan's Upper Peninsula, or traveling west back towards the Nicolet State Recreational Trail.
Throughout this region riders will find warm welcoming resorts to call home for their weeklong or weekend excursions. Plenty of trailside stops offer gas and excellent food ranging from delicious steaks to juicy chicken and hamburgers.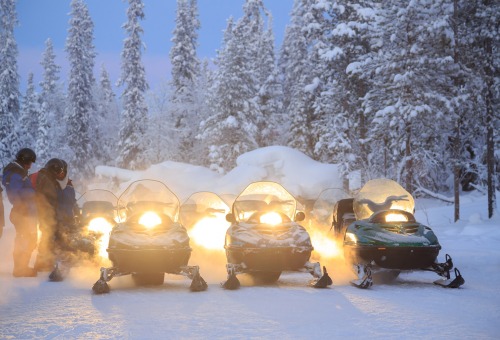 ---
Trail Conditions:
Good
Snow Cover:
5-9
Date of Report
: January 19, 2017
Area Report:
Townsend – Red Arrow Snowmobile – ATV Club – It's 41 degrees as I type this report for you and the trails are turning to mush. The forecast is for temps in the upper 30's into the 40's for the next 7 days with the possibility of some rain or freezing rain later in the week. Riding on the trails now will only destroy our wonderful base that's been established over the last couple of snow storms! Rule of thumb again is: If your yard is sloppy and mushy, the trails will be too!! We won't be able to groom until the temps settle down once more.
Lakewood – Paul Bunyan Snowmobile Club – The Lakewood trails as well as all other area trails are very soft and slushy. We are asking riders to please stay of the trails until the temperatures drop below freezing. We will be in the upper 30's into the 40's for the weekend. I know this is the last thing you wanted to hear after a great weekend of riding last weekend. We will not be grooming until further notice.
Bagley and Brazeau – Joyriders Trails -We will be CLOSING the trails Wednesday 1/18/2017 7:00AM. We are trying to save the trails and get colder weather to open them back up.
Gillett Sno ATV Riders – Gillett Trails remain open with good to excellent riding conditions. We are out grooming several times a week. Just a reminder the Gillett Shell Station to the Chuck Wagon is closed. There is a marked trail along Highway 32 to get to the Wildfire Hotel and Bar that is it. Please stay on marked trails.
Chute Pond Snowmobile Club – Chute Pond trails are open, but riding is discouraged at this time. With forecasted temperatures approaching 40 with possible rain, we are asking that you use common sense- and stay off the trails until the temperatures drop back down. We believe the trails will withstand this January thaw- your cooperation will help make this happen.
Oconto Falls – Sno Jokers Trails – Trails are CLOSED.
Lena Snow Drifters – Trails are CLOSED.
Chase Sno-Chasers – Trails are CLOSED.